SNEAK PREVIEW!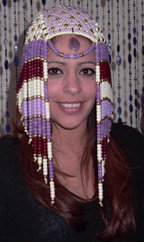 I am in the process of introducing my headdresses, a project almost 30 years in the making. As a little girl growing up in America in the 1960's, my female idols were such as Cher and Tina Turner, because of their incredible talent, beauty, and sense of style. Even as a little girl I recognized that both divas had a certain sense of "Cleopatra" about them, and I wanted to grow up to be like them.
(Photo on right - the amethyst, with gold bead highlights.)
30 years later, I can say my talents are debatable, my beauty questionable, but sense of style has not failed me. And I still admire Cleopatra, and would like to embody her more admirable traits.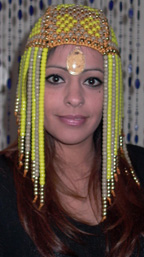 It took about 20 years of trial and error to figure out how to make headdresses. It's not like there were any patterns available. Usually, when you even say the word "headdress" people say "huh?" Other than helmet, shield-guard, visor, what else do we call ceremonial adornments to the crown? Yet, when I draw a picture for them, they say, "Oh, yeah, that thingy!"
(Photo on left - the jasper, with gold bead highlights.)
I spent years working with different kinds of cords and yarns and with different kinds of beads. I also worked with several different approaches regarding "point of origin", meaning, finding the center from which to create the headdress.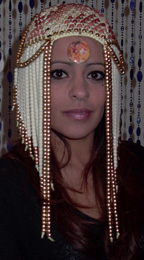 When examining the human scalp, we find that hair tends to start around the crown toward the back center of the head and radiates outward on four sides. When contemplating an artificial head covering, we have to keep in mind that three sides are full, with one side virtually absent. In short, like airplanes, headdresses have to be "aero-dynamically sound" to be efficient, and wearable. Thus, weight has to be evenly distributed to make headdresses comfortable and secure. How to design a headdress that basically supports itself on three sides, even though it is worn on four sides? (Photo on right - the crazy lace agate, with gold bead highlights.)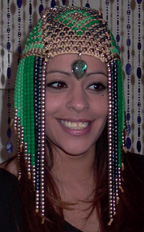 The knotting technique is macramé, and the design is my own, simply incorporating the principles of macramé and my own discoveries regarding what works and what doesn't. Primary considerations are that, to be balanced, the sides must carry more weight than the front or back. This also takes into consideration that there must be some "cleavage" between the material adorning a women's neck and bosom, and that there must be some leniency over the shoulders and around the ears.
(Photo on left - the moonstone, with silver bead highlights.)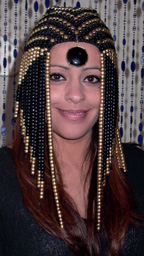 The model in these photographs is known to me only as "Ziggy." She was a guest at a family holiday event, saw my headdresses, and volunteered to be photographed wearing a number of my headdresses. There are a total of 24, as part of a very specific collection which took three years to plan and to manifest, once I came up with a working "prototype."
(Photo on right - the onyx, with gold bead highlights.)
It has been my experience that the American consumer market is not quite ready for my product or design. I have heard from several experts who have told me that very few are willing to risk that which has not already been demonstrated by someone else. In short, few create fashion, though many follow.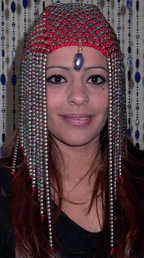 Of these 24 headdresses, it is important to understand that no two are alike. Each has a semi-precious stone as a centerpiece, and each has a distinctive color and bead pattern, as well as shape and conformity to a woman's skull. While these headdresses are largely "one fits most" there are other distinctions to be made, such as size and shape of skull, length/depth of forehead, etc. It so happens I was so lucky with Ziggy as a model, because she was so adroit at finding the right look for her - she did not need a photographer to tell her what worked and what didn't.
(Photo on left - the black opal - somewhat rare - with silver bead highlights.)
The 24 headdresses I have created incorporate a variety of semi-precious stones, beads and cord colors, as well as a fairly evenly balanced ratio of gold, silver, and bronze beads as accents.
It is my dream to someday do what I have done, custom-designing headdresses for some of the most beautiful women in the world, using precious stones in the appropriate settings. Every human on this planet has some secret sense of purpose in life. I have always felt like my purpose is to help bring out the "royalty" in every woman, that men can appreciate, and treasure for the soul within the body.